Throw Mama From The Plane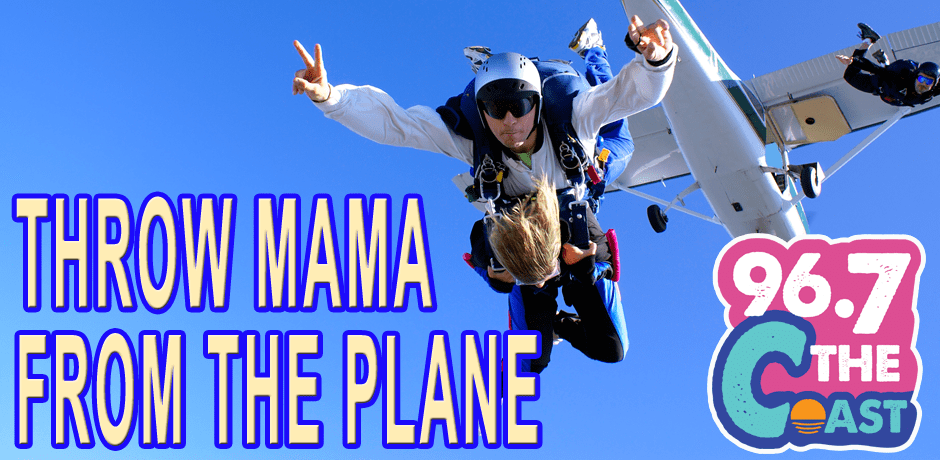 Mother's Day. That special day when we think of and honor Mom for all her love and sacrifice.
This year, you have the chance to show love for mom with "Throw Mama From the Plane"  Well, you won't get to throw her,  but close.  Fill out the form below to nominate that special Mom in Your life to win our Mother's Day Prize Package. 
The "THROW MAMA FROM THE PLANE" PRIZE PACK includes:
– A Skydive high about the Outer Banks doing a tandem dive with a video from Skydive OBX
– A Pearl Necklace ($135)  from Jewelry By Gail
– A Hang Gliding Lesson ($120) from Kitty Hawk Kites
– A Floral Arrangement from Anderson's Florist
– Gift Card to Sound Feet Shoes
– A Cruise ($49) on Miss Oregon Inlet
– Gift Certificate ($100)  to The Inn on Pamlico Sound
– Gift Certificate ($30) to Kellogg Supply/Cottage Shop
– Gift Certificate ($20) to Stack Em High
– Gift Certificate ($20) to Jolly Roger Restaurant
– Movie Passes for Two at RC KDH 10
– Gift Certificate from Outlets Nags Head 
 Throw Mama From the Plane and show everyone just how much she means to you!
____________________
-Contest runs 4/26/2021-5/7/2021
-Must be 18 years or older to win
-Skydiving prize is NON-Transferable – Confirm with "Mom" that she WILL skydive if she wins
PRIZE IS NON-TRANSFERABLE
-One winner will be chosen by ECRI on 5/7/21 from all East Carolina Radio entries.
-No purchase necessary
Click HERE for General Contest Rules